WE WILL TRANSPORT ALMOST EVERYTHING
We are a company specializing in the transport of works of art.
We have created Art Transit in response to the demand of clients seeking professionals in the field of transporting the most delicate and valuable paintings,
sculptures and artistic installations. Many years of experience of qualified staff allows us to perform entrusted tasks with the utmost care.
Flexibility in adjusting the offer to the needs of an individual customer, allow us to offer a full range of services related to de-installation,
packaging, security and final shipment of works of art throughout the world, both by land, water and air.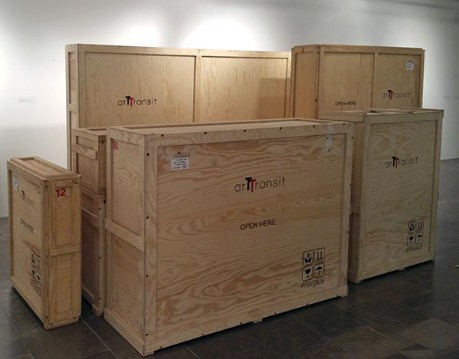 TRANSPORTATION OF ARTWORKS
We have full technical and economic equipment, and above all a team of qualified professionals, which guarantees a smooth service of commissioned transports of works of art. We are able to satisfy the expectations of the most demanding customers.
Fully equipped technical equipment, i.e. professional packaging materials, selected for the individual character of the object.




Disassembly, packaging, unpacking and installation of works, exhibitions, etc.




The construction of specialized transport crates, in accordance with conservation requirements, which we prepare for the dimension of work being the subject of transport.




We rent a wide range of wooden and climatic boxes for transport.




Transports are carried out with vehicles adapted to the transport of works of art.




Each of our cars is equipped, among others air suspension, alarm system and a system for maintaining a constant temperature and humidity of the cargo space - regardless of atmospheric conditions - as well as a system for securing cargo against displacement.




There are always two drivers in the vehicle.




Cooperation with trusted air and sea agencies, thanks to which there is the possibility of transport by any road - land, sea and air. Supervision over loading / unloading on an airplane at the Fryderyk Chopin airport terminal in Warsaw (the so-called "tarmac supervision").




Customs service in each procedure (ATA carnet, import / export temporary or permanent, TIR carnet).




Arrangement of a comprehensive travel museum couriers, both with objects in the vehicle and on the plane, as well as direct transfer to / from the place of transport.




We reserve hotels, buy tickets, pay diets, prepare travel plans (so-called "Courier schedule"). We mediate in concluding insurance policies dedicated to transport and exhibition.



We also offer a service in the field of art storage, in a place adapted to it, maintaining the highest safety standards,
including constant, 

controlled temperature and humidity.
We have at our disposal 500 sq m of warehouse space, designed for both short and long-term storage of your facilities.
ART TRANSIT SP. Z O. O., SP. K